 General Features:
►Quality: Due to high requirements for mechanical quality, raw materials selection, processing, assembly of industrial control over the industry standard, using the new design, quality management system, comprehensive tracking to every detail, delivery to the customer in both hardware and software are a high quality equipment.
►Stable: The lead feeder, servo phase, vacuum adsorption, many rows dislocation arrangement design, favors the cardboard stable transmission. Reinforced frame positioning device, gear direct rigid connection in the wallboard, imported gear from Taiwan and bearing from japan with high speed and long-term stability, with integral anilox roller lift version to keep promotion assure printing, the whole machine adopts the French Schneider electric, host, fan, PLC, touch screen use GERMAN SIEMENS.
►Precision: Rubber roller surface with double glue technology, low pressure transmission from the impact of the pneumatic pressure, can control the whole vacuum adsorption, more with a word dislocation encryption round ceramic array, cardboard more adsorption, without beating, the overall precision of the anilox roller transmission device, full speed to reduce anilox roller beating, with servo phase adjustment increase anilox roller printing quality, down adjustment pressure structure of the die cutting roller keep paperboard line transmission precision guarantee.
►Efficiency: Patent type feeding width automatic adjustment device and printing locking device with screw. With 4.0 engineering design of industrialization, both hardware and software are charged with the author's high efficiency tools. Feeding – dust removing – printing – pre drying- coating- drying-slotting- die cutting-gluer line- case maker
►Service: Based on the industry's first use of PDM design file management system, complete technical support files, regardless of the long time can still be credible commitment to customers, continuous and efficient after-service for the customer support.
This machine also with long-range control with internet. We can monitoring the machine and do service in China office.
 Feeder Unit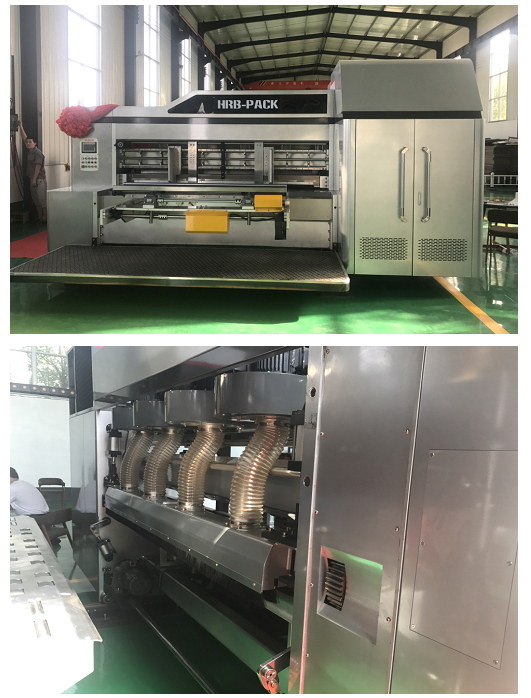 ►Lead feeder with wheels feeding system, lead feeding can adjust cardboard length according to cardboard specification.
►Copy sun automation lead edge feeder with strong vacuum transfer for
precise and stable feeding;(made from guangdong province)
►Frequency conversion adjustment vacuum negative pressure value, can adopt to different cardboard specification and curved cardboard.
►Feeding roll is made of two-layer rubber,inner layer is soft and outer
layer is hard,this makes inner layer more flexible and surface more
wear-resistant,and reduce the flute damage of the cardboard;
►Dust remove system with brush and segmented vacuum sheets cleaner;
Self-locked system adopts for adjusting feeding rolls gap,motorized
and PLC control of feeder side guides;
►Motorized backstop forward /backward and up/down position for easy
and quick adjustment;
►Five rows brush to strengthen the force of negative pressure fan dust removal device, pipe concentrated dust collection.
►The gears of whole machine is original imported from Taiwan
►The electric of whole machine is original Siemens
 Printer Unit / Coating Unit (5+1)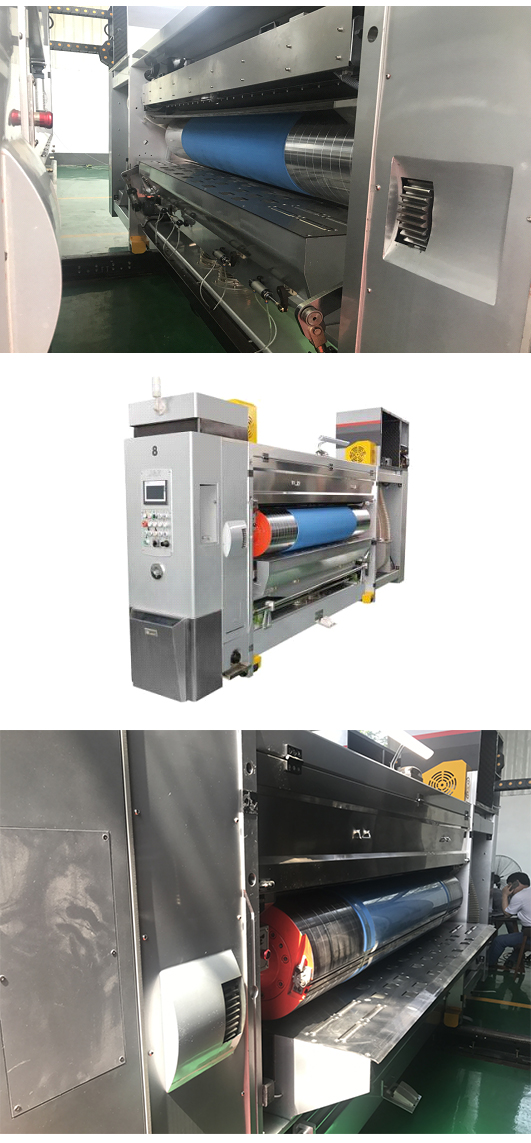 ►with 6 unit ceramic roller and doctor blade.
►Mounting roller with left and right both of side locking device,let the
mounting position more accurately.
►Pneumatic clutch is adopted on the anilox roll to:
(1)Make the roll run at the same speed as the main motor when the unit
is printing;
(2)Make the roll stop when the unit is not printing;
(3)Reduce the possibility of damage to the rubber roll and the anilox
roll for inproper operation;
(4)Allow units which are not in use to be washed up while running.
►Printing register is digitally controlled by motor and PLC
►Transverse register is also digital controlled by motor and PLC ±10mm
►Quick set and self locking pull collars.
►A fixed device of printing register and brake of electromagnetic clutch
is used when the unit is opened.upon closing the unit,the positions are
precisely restored so the unit is ready for production without
adjustment.
►Cleaning function can be automatically switched to ensure the ink
recycling thoroughly
►Automatic resetting after cleaning the printer
►ceramic roller LPI according to customer requirement.
 Drying unit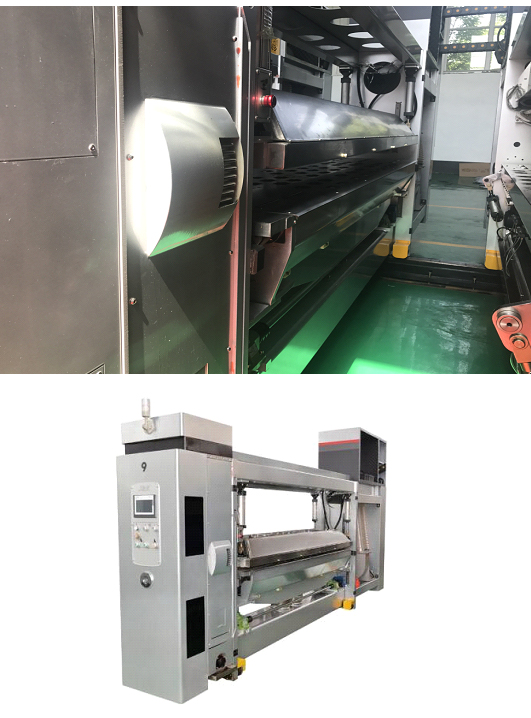 ►Vacuum adsorption ceramic wheels transfer, more rows ceramic wheels dislocation array to strengthen cardboard transmission stability.
►The bellows damper can adjust by automatic according to the cardboard size.
►Drying system with imported PLC program automatic controlling, man-machine dialog control and display.
►Automatic temperature control, fault alarm protection, automatic detection alarm, fault status display.
►Drying system with the host control starting and closing double protection, completely solve the cardboard directly irradiation time heat and burning this question when the machine stop.
 Slotting Unit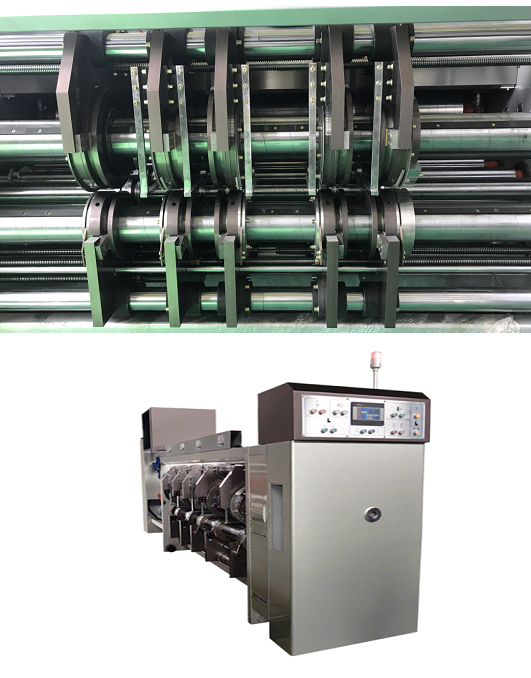 ►Single shaft five blades slotting ,an internal gear adjusts the height
of the carton box and prevents the lubricating oil from spilling or
leaking onto the cardboard
►The first pre-creasing,the cardboard not be damaged after prepressing.
►Upper creasing roll covered by anvil ring,so cardboard is not damaged
easily.
►Slotting bosses move along liner lead rails and are driven by lead
screws for flexible and precise movement.
►Upper boss and lower boss are coupled to keep the two knives aligned
while moving,which is helpful to prolong service life.
►Slotting register and height of carton box are digital controlled by
motor and PLC.
►Transversal movement of the pre-creasing rolls,and slotting bosses' are
digital controlled by motor and PLC
►Motorized controls of the slotting bosses caliber.
►A protective device prevents the slotting knife from crashing when the
height of the carton box is adjusted.
►Flexible angle cutting knife can cut 3 or 5 or 7 ply cardboard with no
adjustment,easy to operate.
 Die Cutting Unit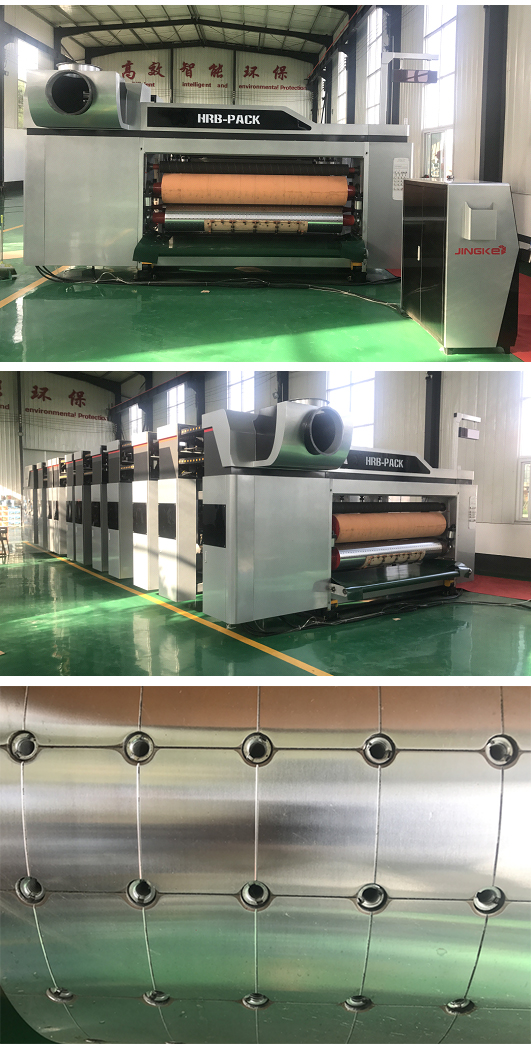 ►with separate servo motor.
►Side to side oscillation of anvil drum(45mm)
►The die drum's transverse movement can prolong the service life of
anvil cover.
►Die-cutting register is digitally controlled by motor and PLC
►The die-cut cylinder lateral register is digitally controlled by motor and
PLC,rang about±10mm
►Motorized caliper adjustment between anvil roll and die drum.
►Auto speed compensation system controlled by the independent motor
can achieve the superb die accuracy.
►Anvil rubber roller speed compensation adopted independent motor for
driving to control the rubber roller speed,the compensation scope is
±3mm.
►Anvil trimmer to keep surface of the anvil covers flat and smooth.
►Anvil cover is Depride made from Germany
 Main Bought-in Parts (from Good Famous Manufacturers )
1.Main motor
1) Main motor adopts frequency conversion motor,Siemens Bedford brand
2) Fans adopt frequency motor(Shanghai)。
2.Bearings
1) imported (Japan) nsk
3.Electrical Parts
1)Units adopt independent control unit, safe and reliable
2)Relay, lights, buttons, contactor, air switch adopt(France)
Schneider etc. good famous brand, to ensure reliable
3)Adjust frequency converter adopt Delta (main motor
frequency conversion adjustment, suction feeding frequency
adjustment)
4)PLC controller adopt Taiwan Delta
5)Rotary encoder adopt the Japan Omron
6)Cylinders,pneumatic components using (Taiwan) Airtac.
7)solenoid valve adopt (Japan)SMC
8)Touch screen adopt (Taiwan) delta.
9)Rubber roller, (Guangdong) Jingyang made
10)Phase motor frequency control, inverter (Taiwan) Delta
11)Inking motor with (Taiwan) Chengbang motor
12)ceramic anolox roller adopts (Guangdong province)
Guangtai.
13)Die cutting anvil adopts Taiwan Maxdura.