※GENERAL FEATURES:
QUALITY: Due to high requirements for mechanical quality, raw materials selection, processing, assembly of industrial control over the industry standard, using the new design, quality management system, comprehensive tracking to every detail, delivery to the customer in both hardware and software are a high quality equipment.
EFFICIENCY: Patent type feeding width automatic adjustment device and printing locking device with screw. With 4.0 engineering design of industrialization, both hardware and software are charged with the author's high efficiency tools.
SERVICE: Based on the industry's first use of PDM design file management system, complete technical support files, regardless of the long time can still be credible commitment to customers, continuous and efficient after-service for the customer support. 24 hours service with 12 engineers .
※FEEDER UNIT
LEAD-EDGE FEEDING SYSTEM
 Lead-edge suction feeding system, easy operation, high accuracy,(adopts lead feeder system).
 7.5KW high pressure centrifugal fans, according to the cardboard
warping degree of frequency control pressure, to ensure warp
cardboard or thin cardboard high-speed accurate transmission.
 Left and right side baffle position electrically adjustable,
screw-driven.and can remember by computer.
 Front baffle adjust the position of the upper and lower intervals
synchronization by manual.
 Skip-feeding devices, could select skip-feeding according to needs. To ensure that large-scale cardboard can also be processed.
 Install 7" touch screen, could automatically display the
production quantity, production speed, and set the production quantity and every operating.
 Slotting part is equipped with the interlock switch, to achieve the
emergency stop, stop feeding or feeding.
MACHINE SEPARATION & COMBINATION
 Button switches electrically control the separation and combination
of machine, with automatic alarm device, continuously alarm while moving, to ensure safety of operators.
 Air pressure interlocks, lock securely, conveniently and accurately.
 Machine clutch drive shaft is equipped with overload protection device.
 Active self-locking function: if unit is not completely locking state,
the host cannot start, to ensure the safety of machine and operator;
while host normal working conditions, the unit clutch function is automatically lock, to avoid machine misuse and personal injury.
DUST-REMOVAL SYSTEM
 Adopt brush cleaning device, equipped with strong Negative pressure suction fan, clearing the dust, paper scrap or other waste, to improve printing quality.
FEEDING ROLLER: DOUBLE FEEDING ROLLER
 Upper feeding roll adopts outer diameter φ165mm rubber roller,
elastic buffer wear rubber (inside soft, outside hard), dynamic balance correction, to ensure smooth and accurate feeding.
 Lower feeding roller adopts embossed rollers, hard chrome-plated, wear and smooth.
 According to cardboard thickness, adopt worm gear box gap tuning, with locking device. Adjustment range 0-12mm
※PRINTER UNIT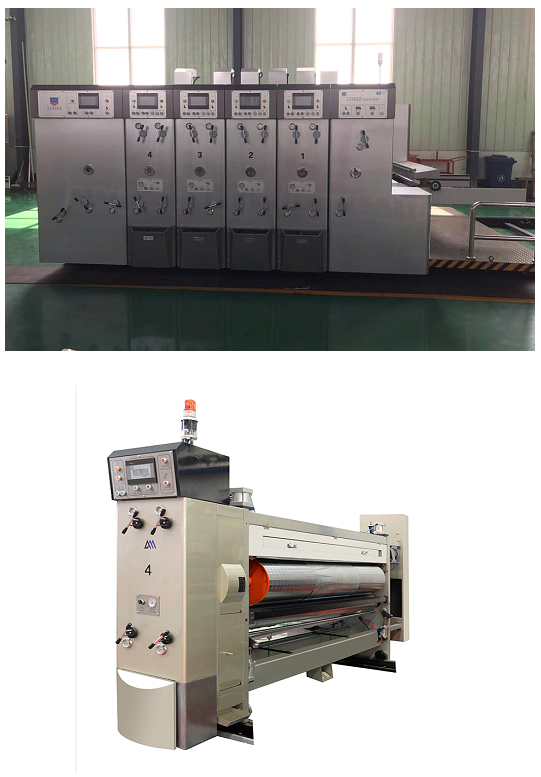 PRINTING ROLLER
 With printing plate, outer diameter φ420mm
 High quality steel production, surface grinded, hard chromium-plated. Static balance adjustment, stable operation, suitable for high speed running
 Roller horizontal direction and circumferential direction with datum line, convenient for align plate
 Fixed coil axis, suitable for standard hanging slats, realize rapid change plate
 Electric 360° adjust printing roller, automatic digital display adjustment, remember store digital.
 Installed with foot switch to control plate roller reversing, convenient change plate
 Auto-zero function, order memory.
 Printing roller plate-change and fix-plate function.
 Printing roll axial is adjusted left and right by manual, maximum movement left and right 10mm,auto-zero instruction.
PRESSING ROLLER
 Adopt high quality seamless delicately processing, dynamic balance adjustment, stable operation
 Diameter φ175mm, surface grinded, hard chromium-plated
 Gear adopt backlash adjustment mechanism, adjustment none-affect gear enunciation, guarantee transmission accuracy
 Printing roller can be adjusted for a distance 0-12mm
 pressing roller, feeding shaft can be adjusted by manual , and loose and tight the roller also by manual.
ANILOX ROLLER
 Outer diameter φ212mm
 Ceramic anilox roller, brand HAILI
 Ceramic anilox roller mesh:180-900 line
RUBBER ROLLER
 Outer diameter φ200mm
 Rubber roller adopts Guangdong Jingyang.
 Overrunning clutch and automatic idling device, to prevent the ink dried
 Rubber roller drum type middle part higher, to ensure ink quality
 Rapid spaced spinner self-locking device, ensures uniform ink
 Ink distributing roller independent drive mechanism, ensure ink quality
DOCTOR BLADE
 Good brand doctor blade from Guangdong province
FEEDING ROLLER
 Feeding roller diameterφ86mm, four wheels feeding
 Feeding roller gear adopts no-side-gap regulating mechanism, can adjust the interval of 12mm
 Hand adjustable rapid clearance adjustment self-locking device, fast, reliable.
INK SYSTEM
 Pneumatic diaphragm pump, simple operation, convenient maintenance, supply stability
 Circulating pneumatic ink
 Screen for filtering impurities, guarantee printing quality
PHASE ADJUST SYSTEM
 Planetary gear structure
 Digital computer 360 ° adjustment, both running and stopping state conditions
 Printing phase adjustment of PLC computer display adjustment
 After units separate, automatic reset system (eraser memory)
PHASE FIX SYSTEM
 Pneumatic brake device, Unit separation and combination or phase adjustment, original point of transmission gear with constant
ZERO DEVICE
 Auto-zero device, to ensure that the units have a uniform adjusted basis, reducing cardboard waste,edition memory function.
※SLOTTING UNIT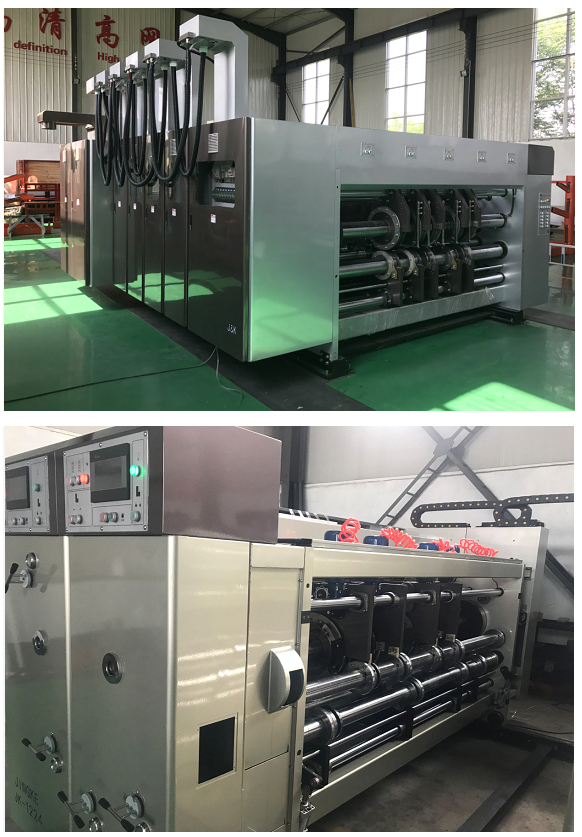  Single-axle double-knife slotter, use Internal tooth structure adjutment the height of box, So that oil does not easily contaminated cartons
 The first pressure line round, after preloading cardboard not easily crush
 The above press round Urethane appearance package, will not damage the cardboard
 The slotter knife stock use traverse mechanism, screw with linear guide, to move more flexible and precise
 Slotting phase and box height, computer and electric digital control
 Preload, creasing gap adjustment adopt computer and electric digital control
 The slotter knife stock gap adjustment adopt self-locking structure
 There's the elastic corner-cutting knife. Can cut three, five, cardboard without adjusted.
 Preload wheel, creas wheel, slot knife traverse position computer and electric digital control
 The slotter knife adopt Anti-knife manner
 Computer automatic arrange knife, can stockpile 999 memories
※DIE-CUTTING UNIT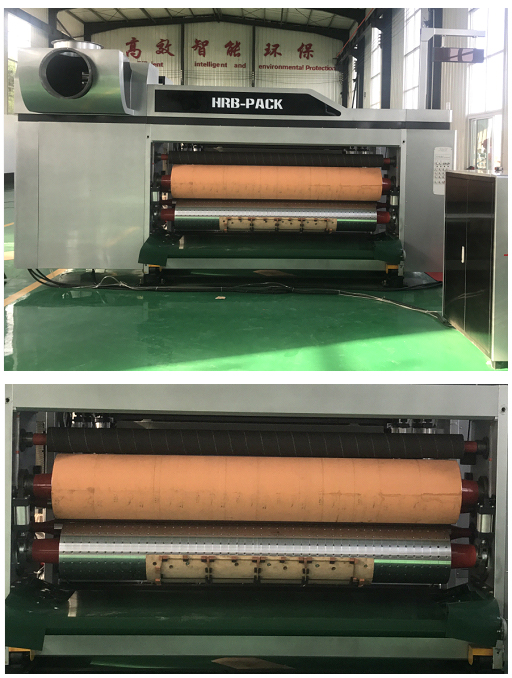  Rubber roller mechanical spiral commutation 40mm move about horizontal structure
 Die-cutter phase, computer and electric digital control
 Horizontal phase, computer and electric digital control, range ±5mm
 Rubber roller and die roller gap use computer and electric digital control,
 Adjust the transfer roller use computer and electric digital control,
 The rubber roller compensated by motor-driven,control the speed of thr rubber roller, range ±3mm
 Rubber roller hsiuping cutting structure, keep rubber surface roughness
 Stripping the belt longitudinal output,to easy clean waste paper.
※GLUER LINE UNIT

 Mechanical speed: 250m/min.
 Main Motor power: 18.5kw
 Running Motor Power: 42kw (depend on running )
 Control way: PLC program control.
FOLDING PART:
 The upper and down conveyor clamping the cardboard to move forward,the cardboard inlet interval, as well as upper and down conveyor interval all adjusted electrically.
 Paper entering section adopts spring pressure wheel to load cardboard, limit device is equipped in the pressure wheel, and the interval between the wheel and down conveyor can be adjusted independently, make sure high paper feeding precision.
 The frond have the fan dust removal device, on the paper feeding time ,remove the slotting waste paper.
 he middle part is equipped with secondary crease line with V shape
 device , which can make sure the folding precision.
 The back part adopts vacuum suction belt to convey cardboard, in case the cardboard slide away and two folding parts are not joint together completely.
 The back part is equipped with down folding belt, which speed is faster than the upper folding belt, the friction of the down belt movement will offset the resistance produced by folding cardboard, to reduce problem thatthe two folding parts of the cardboard are not joint together completely.
 The back part adopts rounder tower forming folding method, make the cardboard folding precision well controlled and the forming carton box with good shape.
 The crossbeam made by thick steel plate with good Stability, the
 movement of the crossbeam adjusted by electrically.
GLUING PART
 Gluing box was used elastic fixed, structure is simple and reliable, easy cleaning.
 Gluing wheel was used stainless steel, make sure using long-term.
 The frond of gluing wheel was used electric brush wheel,remove the waste of cardboard connection tongue, make sure connection tongue gluing well-distributed.
 The optional system to spray on glue.
COUNTER EJECTOR
 Photoelectric switch counting, three units servo motors cooperated to make sure the precise counting under high speed running, accurate and reliable batch with little impact.
 Pneumatic paper pushing structure to push out the counted carton box neatly.
 Back baffle can be adjusted electrically as per the cardboard width
 Moving parts adopts imported ball screw and linear guides with reliable stability.
 Equipped with paper pressure device, upper and down transmission is the same speed ensures carton box neatly, the height can be adjusted electrically as per the different quantity of each pack of the carton box.
 The left and right position of the discharge part can be adjusted, which
 ensures the carton box always falling down to the middle part of the
 machine.
COUNTER EJECTOR
 PP Auto strapper unit
 Speed: 20 carton/min 1 strap/box
※MAIN DRIVING GEAR
 High precision bevel gear, adopt 20CrMnTi quality steel, carburizing quenching, fine grinded gear, transmission gear of high strength, good wear resistance, low noise, longtime ensure the machine rotation precision
 Lubrication adopt closed type spray lubrication system, to ensure transmission accuracy and use-life
※MAIN BOUGHT-IN PARTS
| | | |
| --- | --- | --- |
| Name | Origin | remarks |
| 1. main motor | KunShan | The main motor adopts frequency conversion motor SIEMENS better |
| 2.Fan | ShangHai | Fan with variable frequency motor (Shanghai) Zhicheng |
| 3.Bearing | Japan | nsk Bearing |
| 4.electrical components | France | Units with independent control unit, the safety and reliability of the relay, lights, buttons, contactor, air switch with Schneider and other famous products, to ensure the reliable |
| delta inverter | Taiwan | Adjust the frequency converter adopts Delta (the main motor frequency conversion adjustment, suction feeding frequency adjustment |
| .PLC controller | Taiwan | PLC The controller adopts Delta |
| rotary encoder | Japan | The rotary encoder using OMRON (Japan) |
| Cylinder | Taiwan | Cylinder, pneumatic components adopts (Taiwan) Yadeke |
| solenoid valve | Taiwan | The electromagnetic valve adopts AIRTAC (Taiwan) |
| touch screen | Taiwan | The touch screen display adopts Delta |
| rubber roll | Hebei | Rubber roller, Jing Hui of guangzhou city |
| Phase motor | Taiwan | Taiwan Shengbang phase motor |
| ink motor | Taiwan | Ink motor used (Taiwan Shengbang motor ) |
| knife tool | Qingdao | Qingdao JINDA knife tool |
| anilox roll | Jiangsu | Haili roller |
| Two piece | Zhejiang | DEKE |
| Diaphragm pump | Wuhan | jinchangjiang |
| Rubber pad | Taiwan | Chaonai |
| Expanding sleeve | Shanxi | Xianyang |
※MAIN TECHNICAL PARAMETERS
HRB-1224 LEAD EDGE FEEDER PRINTER SLOTTER
DIE CUTTER MACHINE WITH GLUER LINE

Wall board thickness

60mm

Max Machine Speed (pcs/min)

250

Economic Working Speed (pcs/min)

200

Max. Feeding Size (mm)

1200×2400

Min. Feeding Size (mm)

350x600

Skip-feeding Size (mm)

1400×2400

Standard Plate Thickness (mm)

3.9

Min. slotter distance POSITIVE

130X130X130X130

Min. slotter distance NEGATIVE

230X65X230X65

Max slotter depth (mm)

300

Print precision (mm)

±0.3

Slot precision (mm)

±1.0

Die cut precision (mm)

±1.0

Suitable Cardboard Thickness (mm)

2 - 11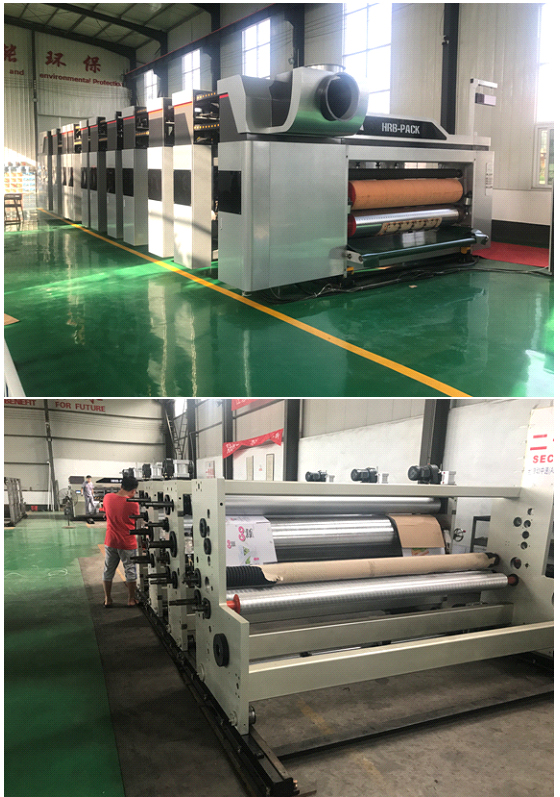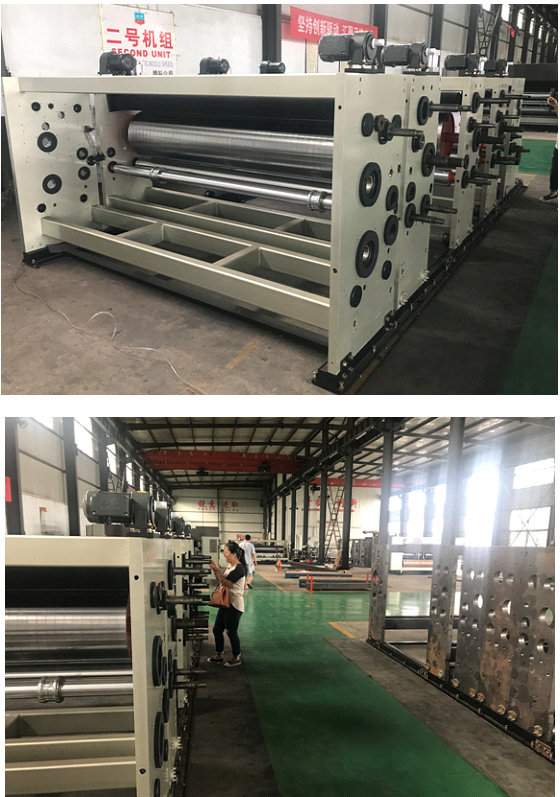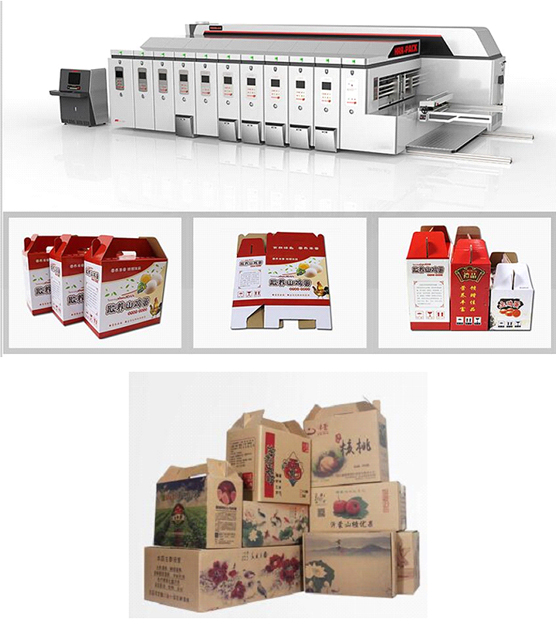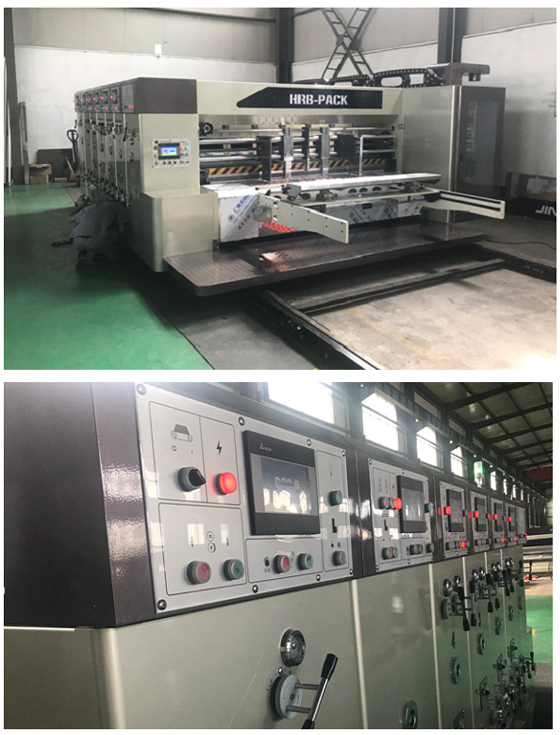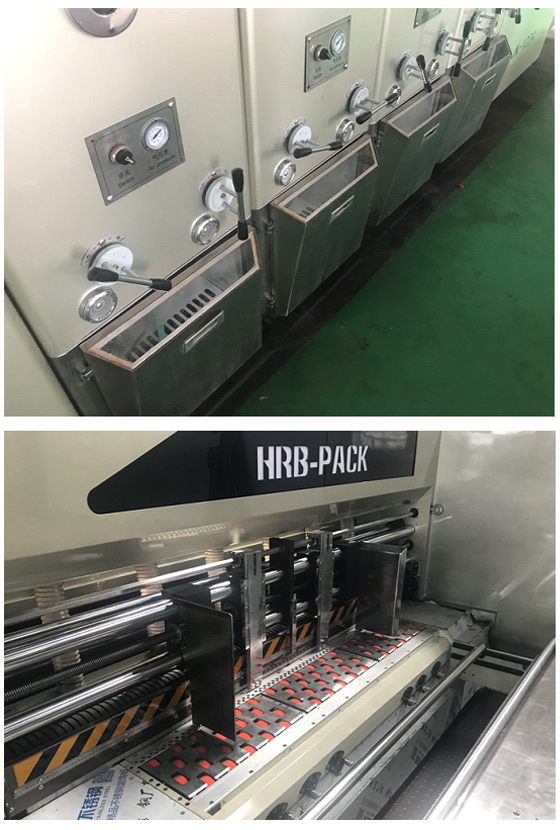 <*p>