This machine absorbs the features of the same model form abroad, especially improves the structure of changing plates. ink supply transmission, and adopts the new design of the whole of machinery and electronic equipment.
Main features
1.printer slotter phase :electric number digitaladjust
2.auto ink circulationsystem
3.Touch screen on feedingunit
4.The gear of the machine: Auto lubrication withoil 5.Machine bodythickness:60mm
6. automatic seperated, pneumatic lock up. Lead feeder
•Automaticsuctionleadedge feederequippedwitha7.5kw suctionfantofeedingcardboard,theblowingrateisadjustablebythetransducer accordingtothedegree of crook of cardboard in order to transmit cardboardsmoothly.
•The main control pannel is composed of control buttons and touch screen, which is very convenient andreliable.
•The machine is launched by pressing the start button with two hands, which ensure the operator'ssafety.
•The side plate is electrical adjusted automatically while the backstop is adjustedmanually.
•Sheet cleaner is equipped to remove the contaminants on the cardboard which will improves the printingquality.
•The upper transmission roll is made of seamless steel tube, the surface is covered wearproof rubber, which is also good at avoiding crushing thecardboard.
•The lower transmission roll is made of seamless steel tube, with the treatment of grinding, embossing, and chromeplated.
•Thetransmissionbetweentheupperand lowertransmissionrollis drivenbydoubleslider coupling,whichisgoodatreducingweardownandtransmittingsmoothly.
•The transmission shaft equipped with electromagnetic friction clutch, for avoiding damaging the motor in case of misoperation oroverload.
•Automatic counter for recording the cardboard supply quantity to show theoutput.
Print unit
•All the rolls and shafts are made of high quality steel, with the treatment of dynamic balance correction, grinding and chromeplated.
•The printing phase position is and horizontal movement controlled automatically by touch screen with digital display, the phase position could be adjusted CW or CCW easily with 360 degree because of the equipping of PLC and planetary gearingmechanism.
•Equipped with ink quantity monitoring system, the machine will alarm when out of ink, and stop feedingcardboard.
•The printing plate is hanged by the hanging plate device, the printing roll is able to clockwise rotate and counter clockwise rotate which controlled by the foot switch, it's very convenient for installation and dismounting of printingplate.
•Manualgapadjustmentvia wormreducer withgraduateddialindicationsuchasgap betweenrubberrollandaniloxroll,gap betweenaniloxrollandprintingrolletc.
•Equipped with electromagnetic clutch break system to fix the printing phase, when separate the printing unit for adjusting the printing phase, the break system will prevent the gear move, keep the originalposition.
•Phase clear memory and reset after printing platecleaning.
•The distributing rubber roll is covered by wear proof rubber, it's good at inktransmission.
•Steel anilox roll with the treatment of grinding, pressing overlapping curve and chrome plated.Slotterunit
•1 Gear enclosed spray lubrication system, keyless drive design, so that accurate long-term chromatic unchanged. High Speed Flexo Printing Slotting(stackingUnit)
•2 Phase institutions is 360-degree Electric adjustment, ergonomicdesign.
•3 Four-blade sync adjustment for cartonheight.
•4 Serrated slotted cutter. Thickness:7mm.
Die-cutting Unit
•Rubber roller mechanical spiral commutation 40mm move about horizontal structure
•Die-cutter phase, computer and electric digital control
•Horizontal phase, computer and electric digital control, range ±5mm
•Rubber roller and die roller gap use computer and electric digital control,
•Adjust the transfer roller use computer and electric digital control,
•The rubber roller compensated by motor-driven,control the speed of thr rubber roller, range ±3mm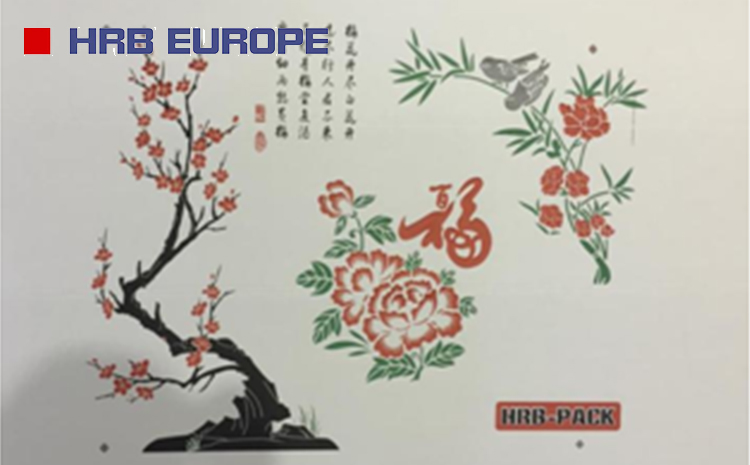 Technological parameter
Item 12-24modeltype
Wallboardmedialwidth 2400mm
Max feedingpaperboardsize 1200 mm * 2400mm
Max effectiveprintingsize 1200 mm * 2200mm
designspeed 120pieces /min
economicalspeed 100 pieces /min
Precision oftheprinting ±0. 75 mm
Printing rolling axlecircle-orientedregulating 360 degreerevolving
Printing rollingaxle-oriented regulating +/-10mm